Details

Category: Latest News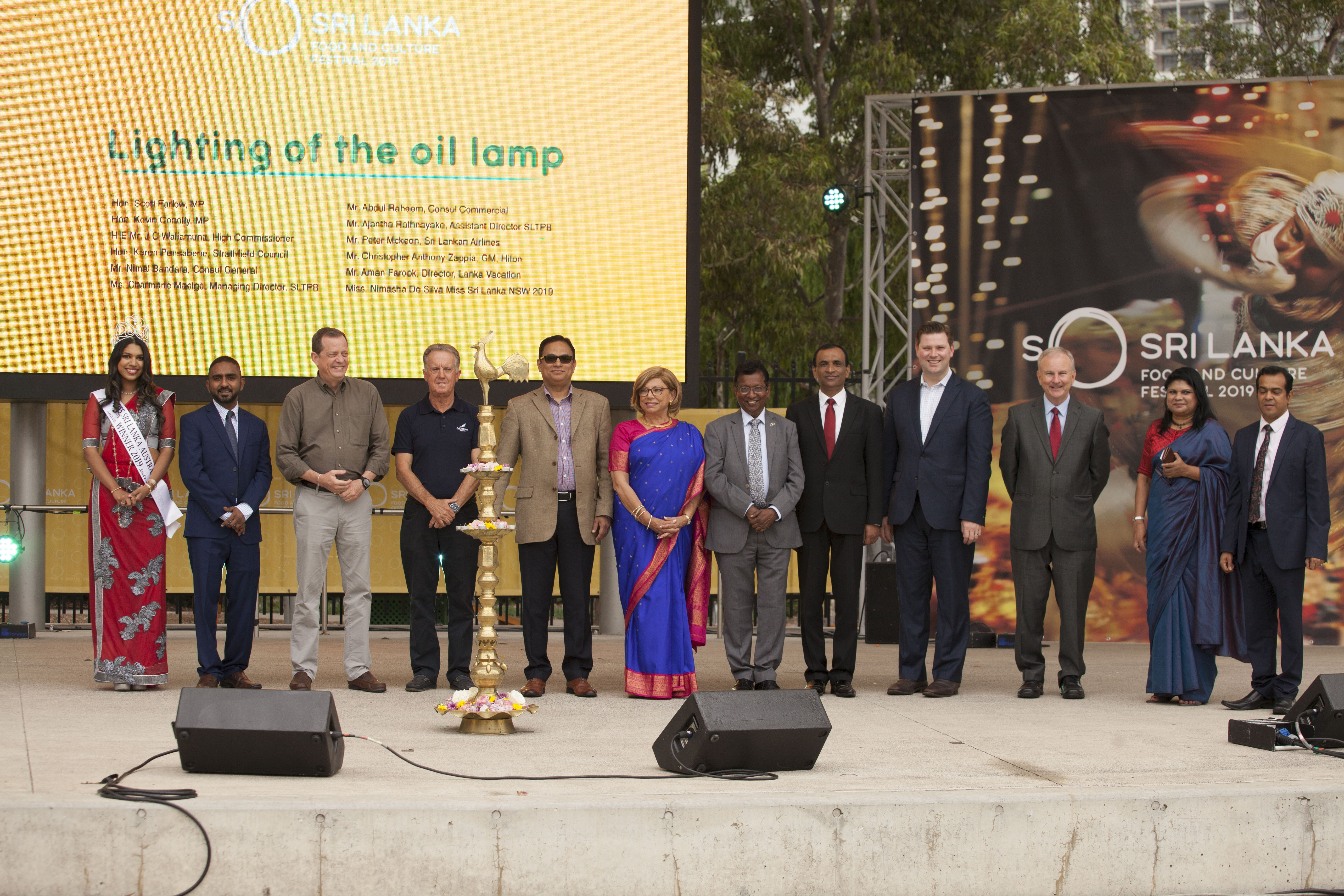 The Sri Lanka Food and Cultural Festival – 2019, a Sri Lankan Tourism Consumer Promotional Event which was jointly organised by the Consulate General of Sri Lanka in Sydney and the Sri Lanka Tourism Promotion Bureau (SLTPB), was held at Tumbalong Park, Darling Harbour from 23rd to 24th November 2019.
The main objective of this consumer promotion was to create awareness among Australian travel community that Sri Lanka is most preferred destination for leisure and holidays. Subsequent to successful similar event of this nature held in 2017, SLTPB decided to organise a consumer event to attract more Australian travellers to Sri Lanka. The event was a great success with the presence of Sri Lankan travel and trade companies as well as a large number of Australian visitors who enjoyed Sri Lankan festival environment at this event.
Major activities took place at this two days festival included exhibition and sale of Sri Lankan products, tasting of Sri Lankan food and the Ceylon Tea, cultural performances, question and answer sessions with give away, video presentation on Sri Lanka, distribution of promotional materials, selling of tour packages by the Sri Lankan travel companies etc.
The dignitaries at the official opening include, Hon Scott Farlow, Leader of the House of the Legislative Council, Hon Kevin Connolly, MP/Riverstone, Hon Karen Pensabene, Strathfield Council, H E J C Weliamuna, Sri Lankan High Commissioner, Mr Nimal Bandara, Consul General, Mr Abdul Raheem, Consul Commercial, Ms Charmarie Maelge, MD/SLTPB and Mr Peter Mckeon, General Manager, Sri Lankan Airlines/Australia.
Consulate General of Sri Lanka
Sydney
25th November 2019
Details

Category: Latest News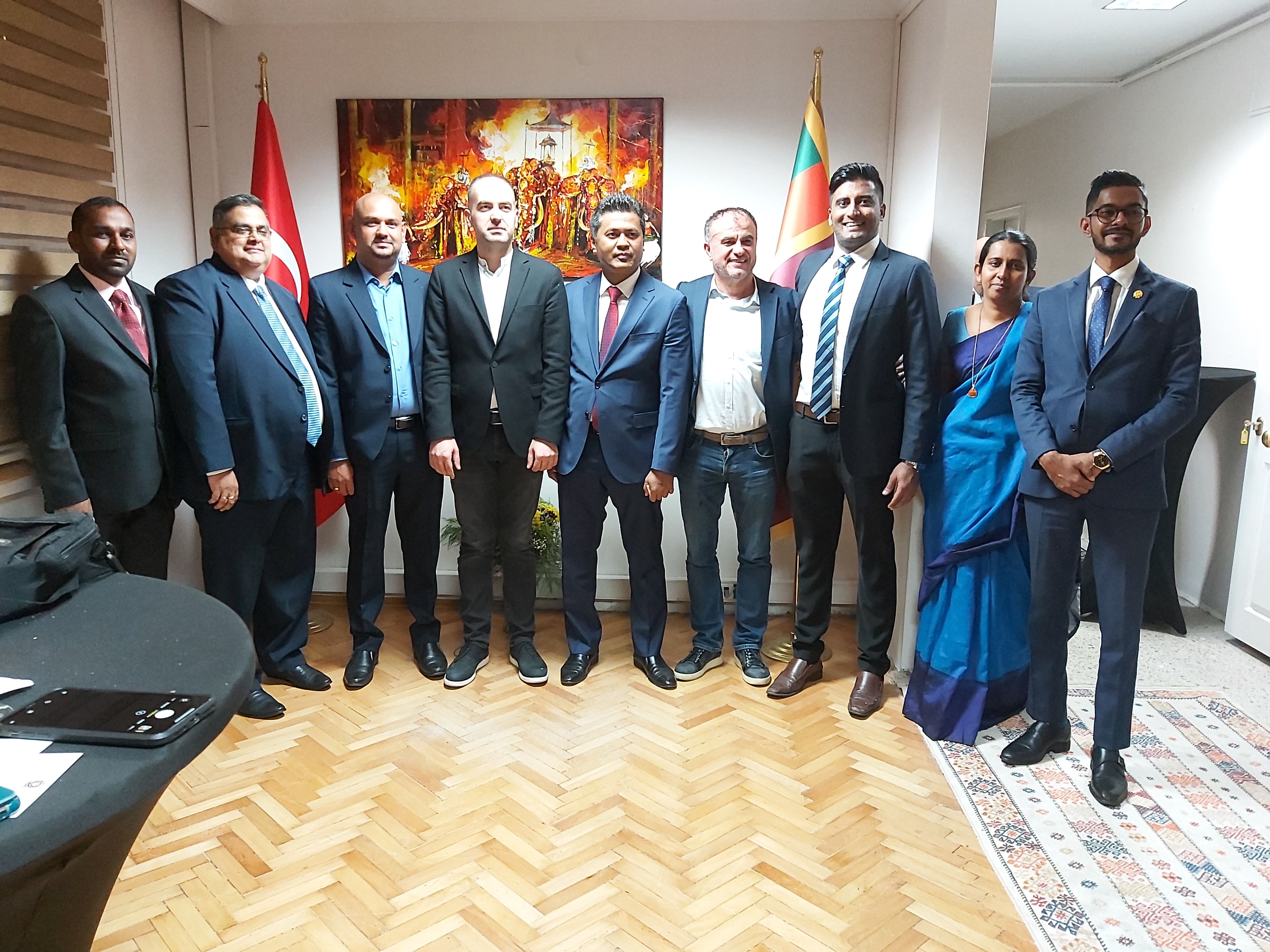 The Embassy of Sri Lanka in Turkey organized business networking reception for the visiting Sri Lankan travel trade delegation participated at the EXPO Travel Ankara fair 2019 at the Embassy on 14th November 2019. 40 prominanet Turkish travel trade giants such as President of Alabanda Group, President of Turkish Union of Tourist Guides Chamber, representatives of Turkish Airlines, Settur travels and many others travel and tour operators from Ankara and Istanbul and representatives media organisations attended at the networking reception. The Sri Lankan paricipants had an opportunity to connect with the Turkish counterparts for future colloborations to increase the number of tourists to both ways.Further the Mission organized individual B2B meetings for the visiting Sri Lankan delegates in Ankara and Istanbul.
| | |
| --- | --- |
| | |
| | |
Details

Category: Latest News
The Permanent Missions of Sri Lanka to the UN and WTO in Geneva, in collaboration with Sri Lanka Tourism Promotion Bureau, organized Sri Lanka's participation at the Swiss International Holiday Exhibition for the second consecutive year, successfully from 1st to 3rd November 2019.
The Sri Lanka Pavilion at the Swiss International Holiday Exhibition was inaugurated on 1st November 2019 in the presence of Ambassador (Mrs) Gothami Silva, the Permanent Representative of Sri Lanka to the World Trade Organization in Geneva, Mr. Marco Peon, the Chief Organizer of the Exhibition and other dignitaries.
The Official Opening of the Sri Lanka Stand
The Swiss International Holiday Exhibition, also known as IVIAGGIATORI, is the prestigious tourism event in the Italian-speaking part of Switzerland, which belongs to the network of the most important European tourism fairs. Leading to a perfect trip around the world, through places, peoples and cultures, IVIAGGIATORI is recognised as an ideal event for travellers and people working in the tourism industry. Every year, it showcases the most fascinating destinations and the best facilities in five continents, including services provided by international tour operators and different packages of tourism.
Sri Lanka Pavilion was a major highlight at this year's Exhibition. Under the patronage of Sri Lanka Tourism Promotion Bureau, eight (08) companies from tourism industry took part this year. Sri Lankan traditional cultural performances and Ceylon Tea serving counter attracted more visitors to the Sri Lanka Pavilion. Through the bilateral meetings the industry representatives had with the visitors, a significant number of successful client contacts had been secured. IVIAGGIATORI being a consumer tourism fair, the industry representatives were highly impressed with the number of direct contacts they could build up during the Exhibition and encouraged to have Sri Lanka's continuous participation at this Exhibition.
With more than 200 stands representing over 30 countries, institutional seminars and thematic events, the 2019 edition of the Swiss International Holiday Exhibition attracted diverse categories of visitors, including families, young couples, singles, students, pensioners, etc. both from Switzerland, as well as from neighbouring Italian regions.
The Swiss tourism market has been classified for years by the World Bank as the second richest in the world in terms of per capita income and spending capacity, and represents the best reservoir for investing in tourism promotion. According to a survey by Visa Europe, Swiss people are the most vacationing people in Europe, with an average of about 3 departures per capita per year, compared to 1.63 recorded in the other European countries. IVIAGGIATORI of Lugano serves as one of the main gateways to this richest tourism market in the world. It is noted that the Swiss tourism market is Sri Lanka's 15th largest market attracting nearly 26,337 and 23,701 Swiss tourists during January – October period in 2018 and 2019 respectively.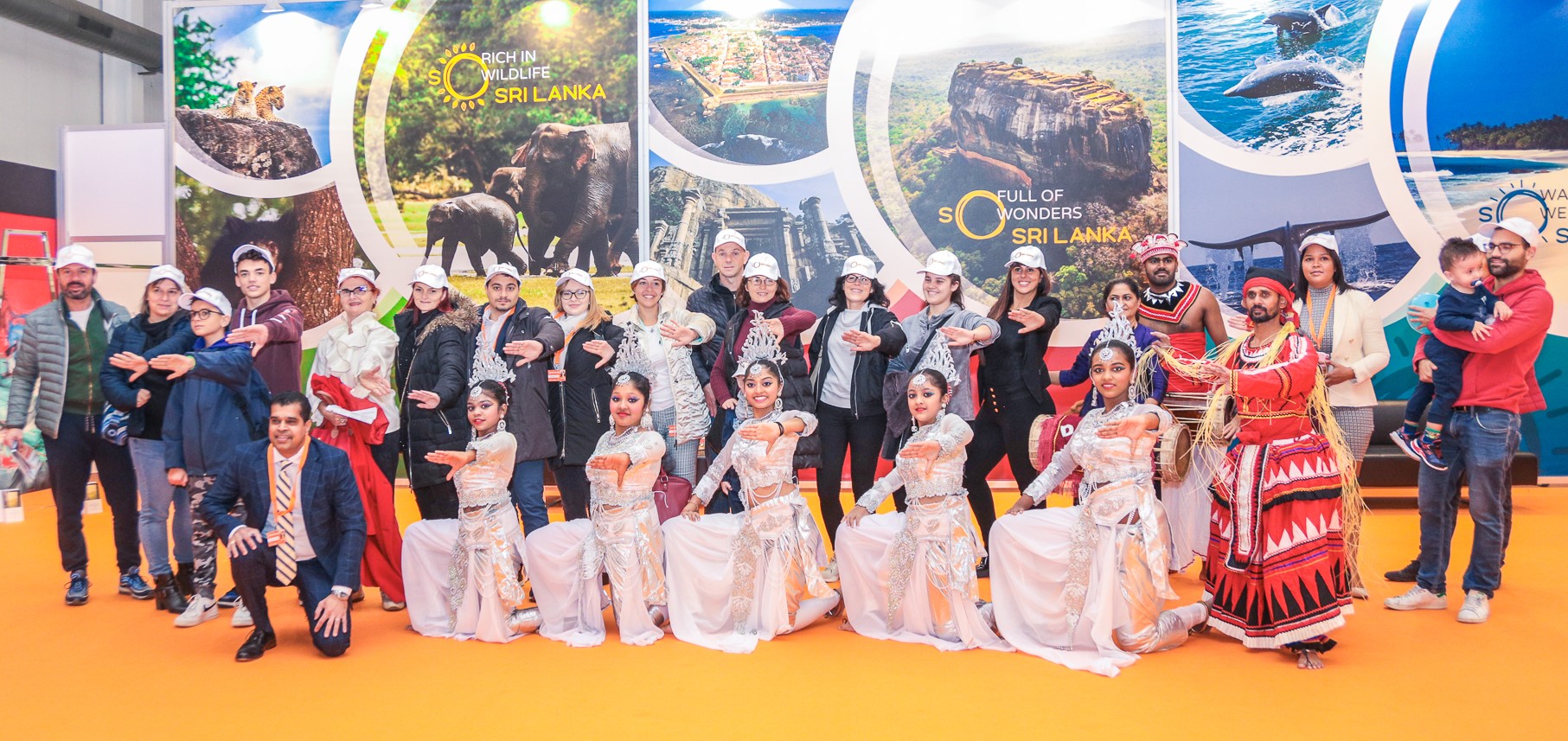 Sri Lankan Traditional Cultural Performances at the Entrance of the Exhibition
Visitors at Sri Lanka Stand
During the event, Sri Lanka was recognised and awarded as "A place of charm that works towards the future" by the Swiss Tourism Awards 2019. The Swiss Tourism Award is a prestigious international recognition awarded in Switzerland for selected destinations, which has an excellent reputation on the Web, in particular promoting destinations and developing new forms of sustainable tourism and alternatives to the traditional mass tourism concepts. Selected through a group of experts in tourism field, the award is granted based on the most striking potentials of the destination's tangible and intangible heritage towards the Swiss audience.
Receiving the Swiss Tourism Awards 2019 - "A place of charm that works towards the future" and presenting Sri Lanka Tourism souvenir

Permanent Mission of Sri Lanka
Geneva
12th November 2019
Details

Category: Latest News
The Consulate General of Sri Lanka in Toronto participated in the fourth annual Tea Festival held at the Royal Botanical Gardens, Burlington, Ontario from 9th to 10th November 2019. Among the participants, there were over 20 tea vendors and other private sector entities, dealing with tea and other natural products. Sample tea sachets and brochures provided by the Sri Lanka Tea Board were distributed, while tea from Nuwara Eliya, Uda Pussellawa, Dimbula, Kandy, Uva, Sabaragamuwa and Ruhuna was served to over 500 visitors. Sri Lanka Tourism travel brochures and herbal tea products were also displayed.
The stall promoted Ceylon tea while creating awareness among visitors on Sri Lanka's rich tea culture, history of Ceylon tea and tea cultivation in Sri Lanka. Many visitors showed their interest in purchasing Ceylon tea and information with regard to the Ceylon tea vendors in Canada was shared with them. The promotional event was a success and therefore, the Consulate General intends to participate at the next year's Burlington Tea Festival as well.
| | |
| --- | --- |
| | |
| | |
Consulate General of Sri Lanka
Toronto
20.11.2019
Details

Category: Latest News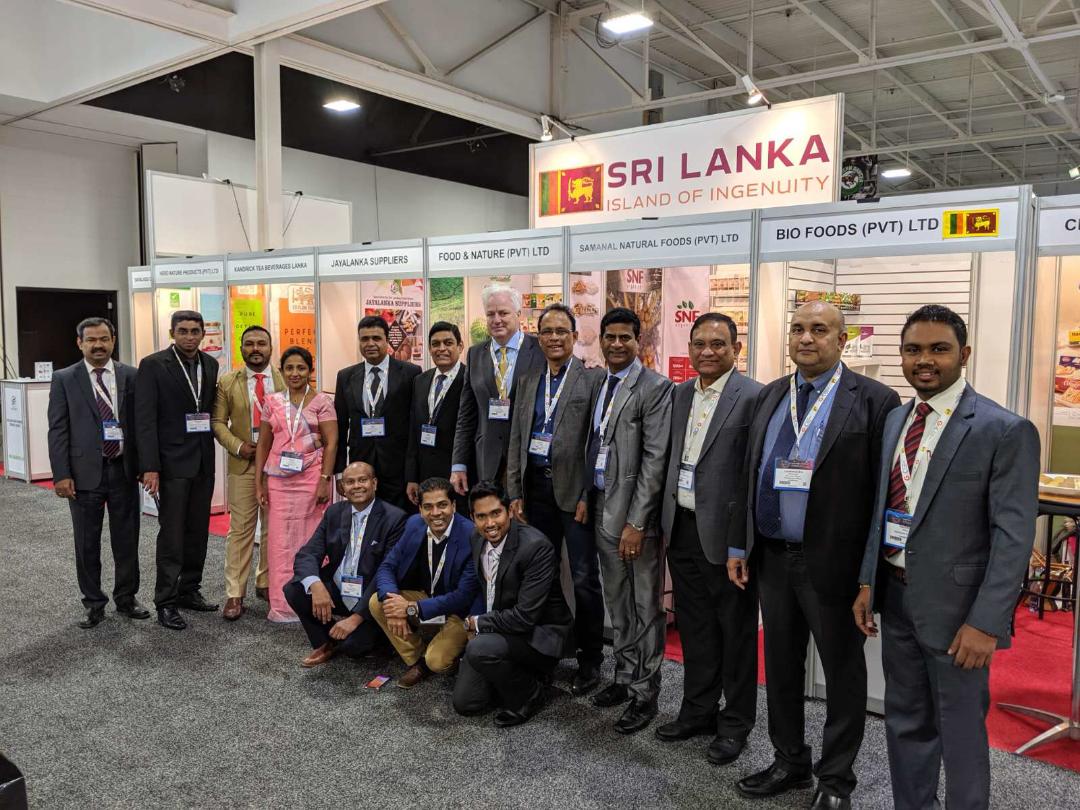 Sri Lanka participated at the GIC 2019 - Food and Beverage Sector International Exhibition, which is one of the most popular professional food and beverage sector exhibitions in Canada. GIC is visited by several thousand buyers, buying agents, importers, food sector distributors, experts, wholesalers, and retailers.
The event was held in Toronto from 22 to 23 October 2019. Sri Lanka's national participation was coordinated by the High Commission in Ottawa and the Consulate General in Toronto together with Ministry of Foreign Affairs, Export Development Board (EDB), and Department of Commerce of Sri Lanka.
Sri Lanka was represented at GIC 2019, by EDB together with Bio Foods (Pvt) Ltd, Ceylon Biscuits Ltd, Food and Nature (Pvt) Ltd, Hero Nature Products (Pvt) Ltd, Kandrick Tea Beverages Lanka, Waguruwela Oil Mills (Pvt) Ltd, Samanala Natural Foods (Pvt) Ltd, Sayaladu Coco (Pvt) Ltd, and Jayalanka Suppliers
High Commissioner in Canada Asoka Girihagama and Consul General Kaplia Jayaweera graced the inaugural session and interacted with the participants. Value added food products, tea, virgin coconut oil, coconut flour, coconut protein, and biscuits were displayed at the Sri Lanka pavilion.
The Sri Lankan delegation participated at the Market Orientation Programme, which consisted of a Market Familiarization Tour prior to the exhibition, in order to explore the Canadian retail markets and consumer trends and at the information session on the Canadian market, organized by the Consulate and EDB.
B2B meetings were arranged with leading buyers such as Costco, Loblaws, Longos, and CTS in Canada during the GIC exhibition which ensured exhibitors to establish useful trade contacts and to receive orders for their products through the new business links made.
Consulate General of Sri Lanka
Toronto
24 October 2019