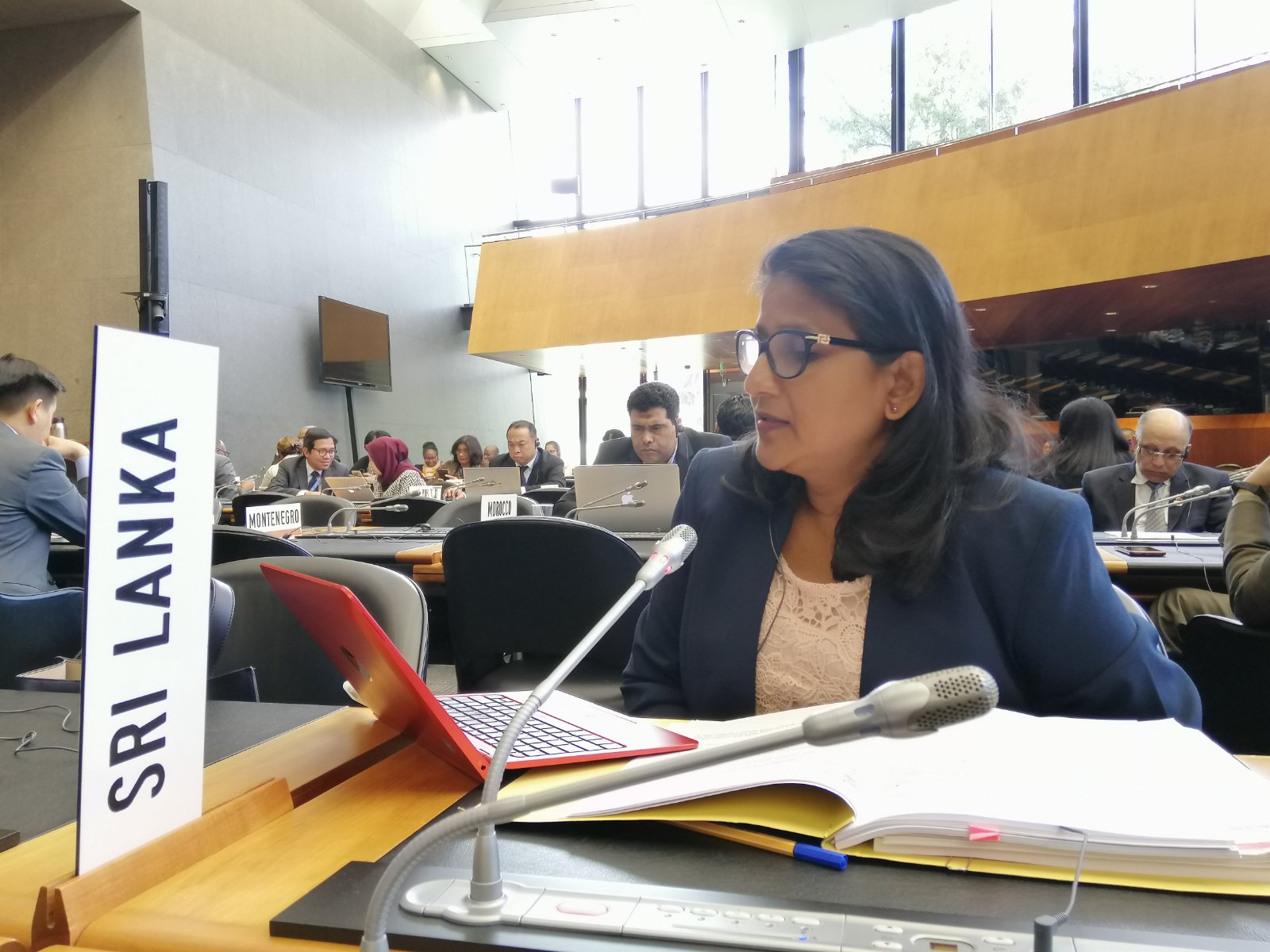 Mr. Chairman,
My delegation welcomes the delegation of the European Union led by Madam Sabine Weyand, Director-General of Directorate-General for Trade of the European Commission, for the 14th review of the trade policies and practices of the European Union. We thank Ambassador of Brazil, the Discussant for his valuable and insight report and WTO Secretariat and the European Union for their comprehensive reports made available to the delegations in advance of this meeting.
My delegation notes with interest the European Union's continued economic advancements, in particular, the comparatively strong real GDP growth, despite increasing trade tensions, which also negatively affect the EU's growth prospects. The EU continues to be an important player in global trade both in terms of merchandise trade in goods and trade in services, while also being the largest trading partner for over 80 countries, including Sri Lanka.
EU is the number one export destination for Sri Lanka and the third largest source of supply of imports for Sri Lanka. Given this significant stance of the EU in the global trade context, the every single trade related policy decision adopted by the European Commission will directly or indirectly affect its trading partners. The small economies like Sri Lanka, whose trade is concentrated on a handful of countries, may experience cascading effects of certain policy decisions adopted by big players in the global trade.

The consistency of the EU's applied tariff structure is worth mentioning here. Its applied tariff rates are much similar to those bound at multilateral level. Agricultural products are an exception to this positive trend due to EU's protectionism approach in terms of high applied duties, significant use of non-ad valorem duty rates and tariff quotas. The complex and rigid regulatory requirements to reach the EU market would hinder the exporters' ability to export their products in to the EU. This would also nullifies the benefit of low tariffs maintained by the EU for non-agricultural products as well as certain non-reciprocal preferences granted for developing countries like mine to enter the EU market at low or zero tariff rates.

It is also noteworthy that the EU continues to provide non-reciprocal preferences under the general GSP arrangement, GSP+ arrangement and the EBA arrangement to over 7,000 tariff lines. Sri Lanka is one of the 8 beneficiary countries of the EU's GSP+ arrangement.

Mr. Chairman,

With regard to bilateral relations between EU and Sri Lanka, EU has been a development partner for Sri Lanka since signing of the Commercial Cooperation Agreement in 1975, which was replaced with the Cooperation Agreement on Partnership and Development in 1995. The EU-Sri Lanka Joint Commission meets every year to discuss bilateral political, trade and development maters of mutual interest, and was last met in February 2019 in Brussels.

EU continues to be the number one destination for Sri Lankan exports absorbing over 1/3 of its total exports. The total trade between Sri Lanka and EU recorded US$ 5.5 Billion in 2019, while the balance of trade remains in favour of Sri Lanka consecutively and recorded US$ 1.6 Billion in 2019. Apparels are the major export item with a share of 57%.

A one-fifth of total FDI to Sri Lanka comes from the EU. United Kingdom, Netherlands, Luxemburg, Sweden, Belgium, Germany and Italy are the major investment partners which have invested in diverse sectors of Sri Lanka. Out of total FDI comes from the EU, the share of the UK accounts for nearly 40%.

Mr. Chairman,

The European Commission has provided over Euro 375 Mn. of assistance to Sri Lanka during the period from 2000 to 2013 under the various projects on trade and development, post-tsunami reconstruction and rehabilitation, and humanitarian assistance. The most recent assistance of Euro 8 Mn. for trade related capacity building launched in November 2016 focuses on enhancing the overall performance of Sri Lanka's export sectors, especially, in food, spices and IT/BPO sectors by providing assistance to develop business and trade policy; trade facilitation; compliance with quality standards and sanitary and phytosanitary (SPS) measures; and sector specific value chain development and SME's integration into regional and global value chains. My delegation and the Government of Sri Lanka looks forward to the continuous generous support of the European Union with an extended phase of the similar project enabling Sri Lanka to continue the work already initiated under the current phase and to achieve more sustainable outcomes.

Mr. Chairman,

Sri Lanka has regained the benefits of EU GSP+ since May 2017. In this regard, I would like to take this opportunity to extend my Government's appreciation to the Trade Directorate of the European Commission for its positive consideration for restoring the GSP+ facility for Sri Lanka.
Exports under the GSP+ scheme have provided direct and indirect employment to approximately one million people. It is important to note that the industries that benefit from GSP + concessions draw their employees mostly from rural areas. In particular, in the post-conflict development phase, the GSP+ facility is more important than ever before to realize such sustainable economic development targets. Women empowerment, poverty eradication, high protection of labour and child rights, environment & sustainable development, rural economy development and SME empowerment are some of the positive aspects of socio-economic development in Sri Lanka, as a result of regaining the EU GSP+ facility. In August 2019, the EU has successfully conducted a GSP+ monitoring mission in Sri Lanka.
However, judging from Sri Lanka's two years' experience, the utilization rate of the GSP+ facility by Sri Lankan exporters stand relatively low at 55 - 60%, due to several reasons, including difficulties of qualifying GSP preferential Rules of Origin Criteria. For instance, more than half of the apparel exports of Sri Lanka enter the EU market without availing the GSP+ facility, but paying relatively high import duties compared to other industrial goods.
Being reached the World Bank GNI Per Capita upper middle threshold in 2019, Sri Lanka is in the verge of losing the EU GSP/GSP+ benefits from 01st January 2023, if this Status continues for two consecutive years. Sri Lanka has already flagged this situation and wishes to negotiate an alternative bilateral preferential trade mechanism or alternatively, a special scheme of preferential market access for small and vulnerable countries in the upper middle-income category.

We also appreciate constructive engagement with DG-MARE of European Commission on improving the fisheries management in Sri Lanka in particular to improve the monitoring, controlling and surveillance systems of Sri Lanka's fishery sector, while addressing the EU IUU fishing issues during 2015 – 2019 period.

I also recall my Government's constructive engagements with Food and Veterinary Office of the EU, in identifying causes for regular interceptions of fruit and vegetable exports to EU and the 2 recent training missions took place in Sri Lanka in the context of the "Better Training for Safer Food" initiative based on the recommendation made after the DG SANTE audits done in 2015. This facility will greatly be influenced on better production, processing and trade of safe food, healthy animals and plants. Despite all positive measures taken, it is disappointed that we continue to receive EUROPHYT and RASFF notifications on our export consignments.

My Government also works closely with the GI Department of the Commission for registering Geographical Indication for Ceylon Cinnamon in the EU region. The Commission has proposed certain amendments to our initial submission of the GI application and the Government of Sri Lanka is in the process of finalizing incorporation of those amendments. Sri Lanka looks forward to having a positive outcome on this pending application.
The new EU organic regulation has a major impact on organic farmers in Sri Lanka, in particular the small farmers who continue to be certified as organic group farmers. The new regulation poses certain obstacles on this group certification. The Government of Sri Lanka intends to take up its concerns with DG/AGRI sooner.

The new EU regulations on MRL/pesticides also create burdensome procedures for small scale suppliers to the EU like Sri Lanka. Sri Lanka questions as to whether the relevant regulations do comply with the provisions of the SPS Agreement (i.e. Article 3.5, Article 5 and Article 10.2 of the SPS Agreement). These include, inter alia,


Compelling the exporters to obtain test reports from EU laboratories which is time-consuming and adds additional cost on the producers.

Detection of natural occurring substances: certain chemicals that are naturally occurred in tropical environment in export crops, such as tea, herbs & spices, have been listed as contaminants according to new EU regulations.

Requirement to analyze pesticide residues for more than 500 numbers of pesticides, import of most of which to Sri Lanka are even banned at present.

Certain new limits of Agrochemical residues, such as 0.001ppm level are impossible to adhere, while we are lacking laboratory facilities to test such sensitive and low levels of residue limits.
The Government of Sri Lanka, through its Permanent Representation to the European Commission, is in the process of taking up these practical impediments with DG/AGRI and DG/SANTE. We expect the Commission's continues support towards reaching a mutual agreement on these issues, as it has extended in the past.

The EU continues to be a significant user of trade remedies, although the number of new anti-dumping and anti-subsidy initiations steadily declined between 2016 and 2018. We are somewhat concerned with the implementation of its Anti-circumvention provisions in its relevant regulations, particularly for lack of transparency and inconsistencies in their application.

In concluding, my delegation appreciates the EU's highly valued contribution to the multilateral trading system and its active engagement in the negotiations. The dynamic role played by Ambassador Machado and his team in Geneva in proactively engaging in ongoing activities of WTO, is highly commendable. We sincerely wish the EU delegation a successful deliberation on its 14th Trade Policy Review.
I thank you Mr. Chairman.