The United Kingdom (UK) will leave the EU on 31st January 2020.
After 31st January 2020, there will be a transition period until the end of 2020, while the UK and the EU negotiate additional arrangements regarding the withdrawal.
The current rules on trade, travel, and business for the UK and the EU will continue to apply during the transition period.This means;
All Sri Lankan products, which currently enjoy duty-free market access in the EU under "GSP Plus" will be able to enjoy the same duty-free access in the UK market from 01.02.2020 until 31.12.2020, which is known as the transition period.

The Department of Commerce (DOC), in consultation with the Sri Lanka High Commission in London, will inform you in due course of the terms and conditions the UK will apply to our exports with effect from 01.01.2021.

All (EU GSP Plus) REX-registered exporters can continue to ship their "EU-GSP Plus entitled" merchandise to the UK market with a "Statement of Origin", which is similar to what they currently make with regard to their EU-bound exports.

New exporters, who are not REX-registered up to now, are advised to obtain their REX-registration from the DOC, located on 4th Floor, "Rakshana Mandiraya" 21 Vauxhall Street, Colombo 02 as soon as possible.

Rules of Origin for goods exported to the UK market till 31.12.2020 will be same as those applied under the EU "GSP Plus".
For any additional information, please contact any of the following DOC officials.
- Ms. Thavishya Mullegamgoda / Asst. Director of Commerce – 0112329733 Ext.252/ Email: This email address is being protected from spambots. You need JavaScript enabled to view it.
- Ms. Samodhi Perera / Asst. Director of Commerce - 0112329733 Ext.234/ Email: This email address is being protected from spambots. You need JavaScript enabled to view it.
- Ms. Mekhala Abeykoon / Asst. Director of Commerce 0112329733 Ext.234 Email: This email address is being protected from spambots. You need JavaScript enabled to view it.
Department of Commerce
Colombo 02
30.01.2020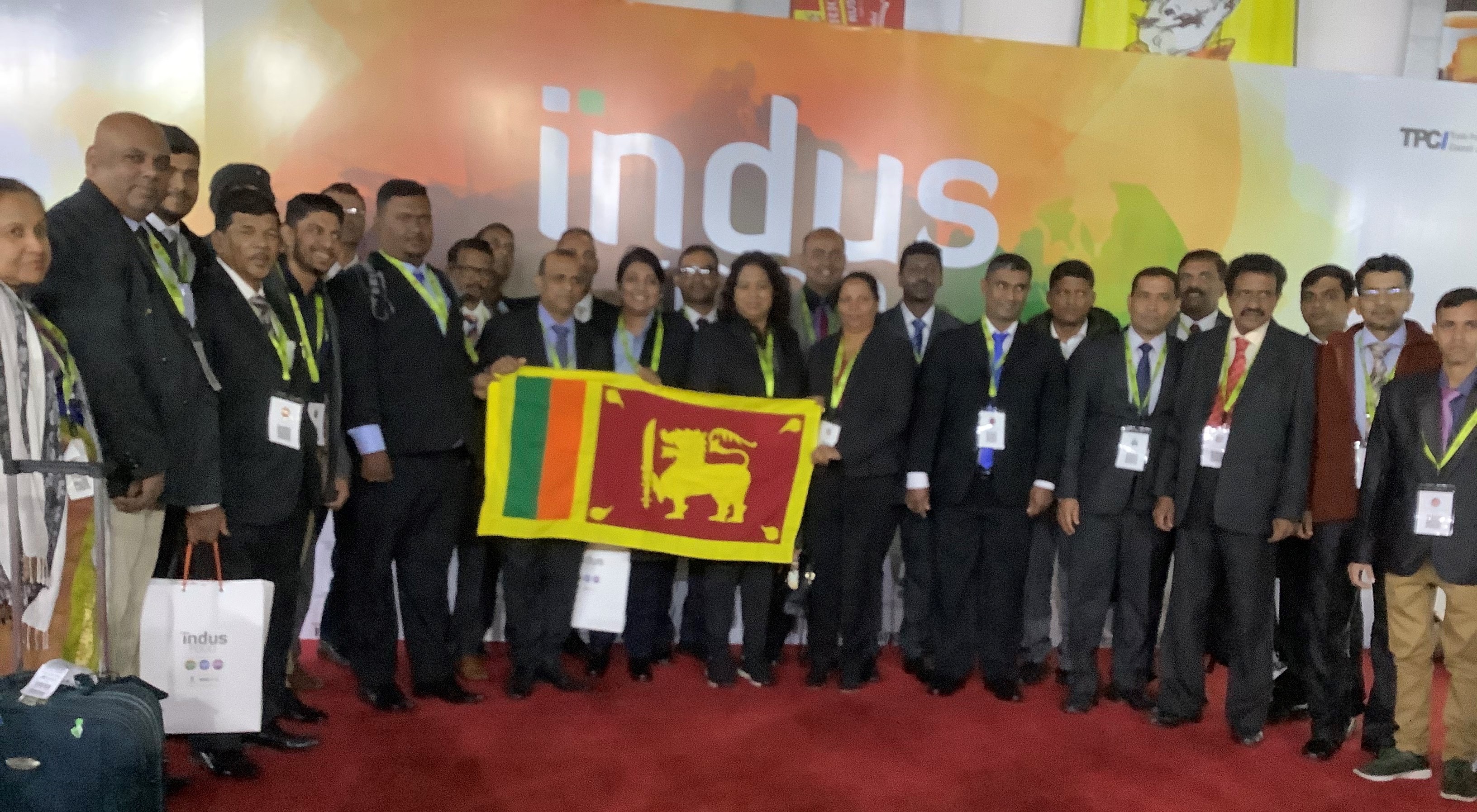 The Ceylon Chamber of Commerce in association with the Trade Promotion Council of India (TPCI) and the Sri Lanka High Commission in India organised Sri Lanka's participation for the first time, at the "Indusfood - Tech 2020" Trade Fair, held from 8th to 10th January, 2020 in India to showcase Sri Lanka's processed food and beverage industry. 34 representatives from Small and Medium (SMEs) companies were selected to join the mission to explore opportunities to establish business linkages.
The main objective of participation was to identify potential buyers to promote products from Sri Lanka, sourcing machinery, equipment and raw materials required for the food industry. In addition, SMEs were facilitated to observe market requirements, strengths of competitors, labelling requirements and pricing.
Indusfood - Tech 2020 was organised by The Trade Promotion Council of India (TPCI) as one of its annual International Trade Fairs from 8th to 10th January, 2020 at the India Exposition Mart, Greater Noida, India. Indusfood - Tech 2020 is aglobal platform to showcase food and drink technology and equipment to the food processing companies in India and the world. Sectors covered at the Trade Fair includes Food & Beverage Processing, Drink Technology, Food Packaging & Labelling, Automation & Controls and Supply Chain Solutions.
In recognition of the strong links established by the Ceylon Chamber of Commerce with the Trade Promotion Council of India (TPCI), all 34 Sri Lankan SMEs were provided with return air tickets, four nights' hotel accommodation at a five start hotel in Delhi and local transport including airport transfers. In addition, post event tours to manufacturing plants were organised for the benefit of SMEs to identify suitable machinery/equipment for expansion of their manufacturing capacities. The Ceylon Chamber of Commerce with a history of over 180 years, assist SMEs in Sri Lanka to venture into foreign markets through its strong linkages established with over 128 countries where Memoranda of Understanding have been signed to develop bilateral trade.
The 34 SME delegates are dealing with dairy products, processed food, meat products, poultry, spices, specialised varieties of rice, value added tea, fruits such as high breed mango varieties and confectionary. A.H.M. Basheer, Chairman, Apsara Agri Impex, Azahim Ali, Chief Executive Officer, Arogya Farm (Pvt) Ltd., Arumugam Pathmanathan, General Manager, Caravan Fresh, Sajith Gunaratne, Deputy General Manager, Ceylon Agro Industries Ltd., Manjula Priyadarshana, Executive Director, Ceylon Nutrinut Holdings (Pvt) Ltd., D.D.C. Deepal, Director, Chutiduwa Group of Companies, Gayan Dhanayake, Manager, D & M Products, Janaki Amarasinghe, Chairperson, D.J. Products, Roshan Chandraratne, Production Manager, Dilani Rice, W. Bandara, Manager, Ellawala Horticulture (Pvt) Ltd, Saman Kankanamge, Director – Sales, Enrich Tea and Food Exports (Pvt) Ltd., Wasantha Ariyathilake, Director – Purchasing, Hettigoda Industries (Pvt) Ltd., Haris Humam, Managing Director, Island Hills, Palitha Nagahawaththa, Director, JAY Foods Lanka (Pvt) Ltd., Harsha Uduwana, Manager – Sales, Komarika International Pvt Ltd., Duminda Weerasinghe, Chief Executive
Officer, Lakmee Exports Lanka Co. (Pvt) Ltd., Sunil Rodrigo, Chairman, Lili Cheese (Pvt) Ltd., Samantha Mirandu, Founder, Liven, Sharaf Basheer, CEO/Managing Director, Milma General Trading (Pvt) Ltd., Eddie Nanayakkara, Chairman, Nelna Agri Development (Pvt) Ltd., Chamara Kudamaduwage, Production Manager, Pussalla Meat Producers (Pvt) Ltd., Sunil Atapattu, Managing Director, Rainbow Marketing (Pvt) Ltd., Daminda Perera, Managing Director, Rasoda Dairies (Pvt) Ltd., Nadeera Silva, Proprietor, S & N Products, Pubudu Megodawickrama, Asst. Production Planning Manager, SriLankan Catering Ltd., Sunanda Weerasinghe, Chairperson, Sujan International (Pvt) Ltd., M.C.M. Subair, Chairman, Teemah Biscuit Manufacturers, Tharaka Sandaruwan, Proprietor, Tharaka Products, Kithsiri Sumanasekara, Manager and Jayantha Wanigasekera, Managing Director of Uruwala Tea Factory (Pvt) Ltd., Aruna Sri Wanasinghe, General Manager, Wichy Plantation Company (Pvt) Ltd were the delegates represented the SME sector mission which was co-ordinated by Lilakshini de Mel, Senior Assistant Secretary General of the Ceylon Chamber of Commerce.

Delegates were facilitated to attend sectoral round table discussions and meet over 1,000 foreign delegates from Australia, Austria, Bahrain, Bangladesh, Belgium, Brazil, Canada, China, Germany, Netherlands, Russia, USA etc. in addition to over 1,200 business partners from India during the B2B Meeting sessions on 8th and 9th January. Wide array of products and services related to food industry were showcased by 600 Indian exhibitors at the Trade Fair.
Ms. Upekkha Samaratunga, Minister (Commercial) of the Sri Lanka High Commission in New Delhi met the delegates at the Trade Fair and offered support to take follow up action to establish post event business linkages. "All the delegates received positive responses at the trade fair and we will consider our participation at the Indusfood - Tech 2021 as well. Our participation made several inroads to enter into Indian market due to large number of positive responses received" said Lilakshini de Mel, Senior Assistant Secretary General of the Ceylon Chamber of Commerce.
India having a population base of over 1.3 billion offers a large demand driven market. The total consumption of the food and beverage segment domestically is expected to reach to US$ 1.142 trillion by 2025. India is the top global producer of meat, milk, castor seeds, sesame, mango, banana, chickpeas and is among the top producers globally for rice, wheat, sugarcane, tea, spices, onion, potatoes, and many others. With the new agri-export policy, the Indian F&B exports is expected to grow from USD 32 billion to USD 70 billion by end 2020. Growing level of income, falling poverty, changing lifestyles and companies racing to capture India's middle and upper middle class consumers will cause the food market to evolve dramatically in the coming years.

This unique combination on one hand makes the Indusfood - Tech Trade Fair interesting for purchasers from all sales channels, such as the wholesale and retail trade, importers and trading companies and on the other hand, the Trade Fair also addresses experts from the out-of home market, such as catering companies, hotels, resorts, restaurants and food service suppliers. As a pure B2B trade fair presenting a broad range of foods and beverages, Indusfood - Tech 2020 offered an outstanding platform for acquiring information, placing orders and networking.