Issuance of Certificate of Origin
Department of Commerce
Details

Category: Our Services
The officials in the Department of Commerce and its Commercial representatives based in Sri Lanka Diplomatic Missions abroad actively take part in facilitating, strengthening and establishing Sri Lanka's Commercial and Investment interests in foreign markets. Trade representatives abroad assist Sri Lankan enterprises to develop their business capabilities and find correct overseas partners. Trade Representatives are involved in
Providing assistance to the SME sector in finding buyers in the global market environment.
Matching service, which connects the Sri Lankan business community to overseas business contacts.
Providing of business and market intelligence for specific markets and products.
Providing market intelligence, up-to-date analysis on worldwide market trends, directions and business strategies, assessing and forecasting political, economic and business conditions in major economies with which Sri Lanka maintains a closer economic relation.
Counselling and consultations for Sri Lankan companies with an aim of providing them insight into how overseas private sector companies will respond and react to different market situations.
Providing adequate exposure and publicity to Sri Lanka's unique advantages of strategic location, competitive and intelligent workforce, pro-business environment which make it is the ideal launching pad for penetrating to the massive regional and global markets
Assisting Sri Lankan enterprises to stay very relevant to the needs of the international market and support them in taking right decisions in establishing right connections.
Organizing business networking, business matchmaking and interactive dialogs for the Sri Lankan business community with their international counterparts during various business visits undertaken by them.
Engaging in and interacting closely with Sri Lankan business community on regular basis to understand their business needs better and continuously update them on overseas opportunities.
Assisting the business community to understand indirect trade restrictive measures such as TBT and SPS measures, by various economies, which may disturb future focus and directions of the enterprises and ensuring that effects of these measures are mitigated with possible counter measures by Sri Lanka.
Assisting government agencies as well as private sector enterprises to understand multilateral trading system under the auspices of WTO and its impact on future of the global trade.
Identifying trade-facilitating measures such as Preferential Tariffs, Free Trade Agreements and advice the concerned agencies how best Sri Lanka could reap benefits out of them.
Providing adequate exposure and publicity for wide range of benefits that could be accrued through several regional and bilateral trading arrangements for which Sri Lanka is signatory.
Ensuring that there is a proper network of contacts with every concerned party that include senior level government officials and business leaders including trade chambers to promote and protect Sri Lanka's interest overseas.
Communicating intelligence with relevant agencies including DOC in time to avoid or minimize possible damages to the future economic activities.
Details

Category: Our Services
The DoC is acting as the authorized agency to issue recommendations for Resident Visa (RV) to expatriates who are employed by the Branch Offices of foreign companies and trade & commercial ventures whose presence falls directly under the purview of the Ministry of Industry and Commerce.
A company or an organization seeking to recruit a foreign national must make a request to the Department of Immigration & Emigration, prior to the arrival of the expatriate, giving details such as the name and nationality, duration of stay in Sri Lanka, nature of the assignment etc. along with the recommendation of the line Ministry. The Controller of Immigration & Emigration, on receipt of the above request and recommendations will inform the relevant Sri Lanka diplomatic Mission to issue Entry Visa for the applicant valid for 30 days with instructions to apply for RV valid for one year duration on arrival
In regard to the renewal of RV, the applicant has to make a request to the Secretary/Director General of Commerce with adequate reasons to justify continuity of the employee's stay in Sri Lanka. The DOC, in the process of issuing RV recommendations, pays careful attention to ensure that the presence of the expatriate worker in Sri Lanka is essential according to the given reasons, and that it does not, under any circumstances mitigate job opportunities available to Sri Lankans, that the RV applicant's presence is beneficial to the country from the national economic point of view and that the employer has made reasonably adequate efforts to identify a suitable replacement locally.
An application for resident visa according to the above requirements should be made to the Director General of Commerce with the duly perfected application form three weeks in advance.
Details

Category: Our Services
The Department of Commerce is responsible for issuing Certificates of Origin (COOs) under all GSP Schemes, Free Trade Agreements (FTAs) and Preferential Trading Agreements (PTAs) of which Sri Lanka is either a beneficiary or Party. On the issuance of a COO certifying a product's compliance with the Agreement's Rules of Origin, the product can enter into those markets either duty free or under concessionary duty rates.
On average, the DoC issues 500 Certificates of Origin (COOs) per day, subject to a proper scrutiny. The DoC generally issues COOs within one day, with the objective of facilitating the completion of export documentation process expeditiously.
In order to meet this daunting task, the internal control system of the Department was streamlined at no additional cost. More than 75% of these COOs issued are under the EU GSP scheme mainly for apparel products exported to the European Union (EU).
A team of highly motivated officers who are assigned fulltime to the COO division are available for consultation and further clarifications at any time during office hours without prior appointments. On the average, 1000 consultations were carried out by the designated officials during the last nine months of this year.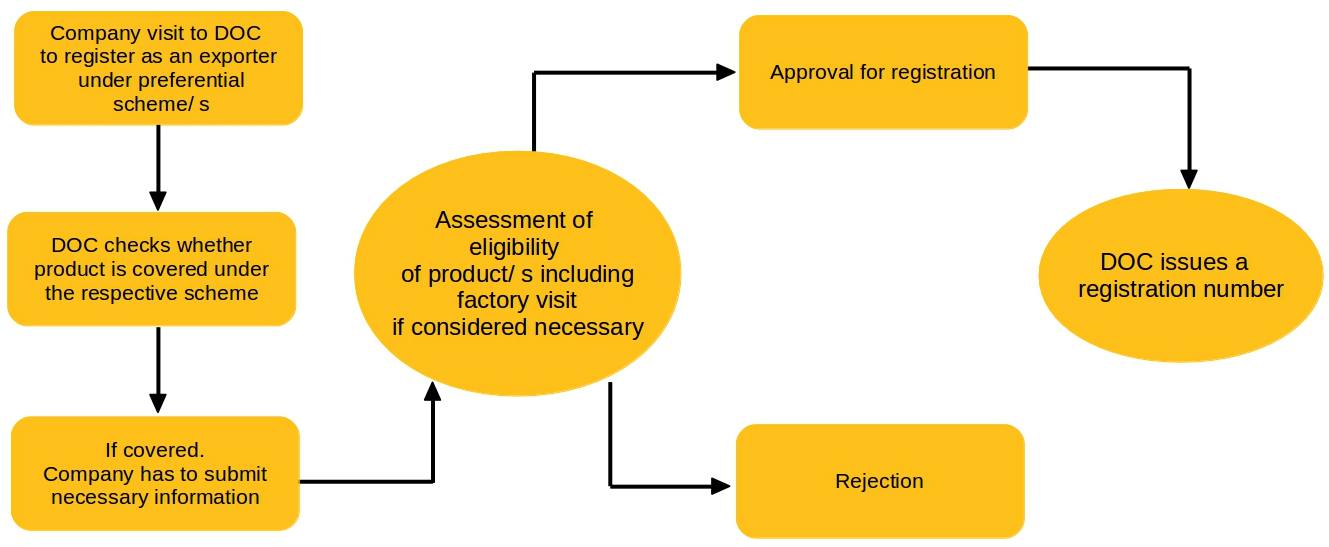 Details

Category: Our Services
The DoC also functions as the focal point in Sri Lanka for joint commissions on trade and economic co-operation which have been established under trade agreements. These joint commissions provide a mechanism for inter-governmental cooperation in trade relations which is extremely beneficial for the development and expansion of Sri Lanka's exports to the countries concerned. The DoC is responsible for bilateral trade negotiations under these joint commissions from the stage of their formulation, and with respect to coordination of their work and implementation of their decisions.
The scope of these Joint Commissions is comprehensive ranging from trade, banking, and shipping to co-operation in education, science and employment. Activities undertaken in this context apart from contributing to the promotion of Sri Lanka's trade are intended to foster mutual understanding and co-operation between participating countries and their respective public and private sector agencies.
The Department of Commerce is responsible for co-ordination and conduct of the following Joint Commissions/Committees, which are held at ministerial level.