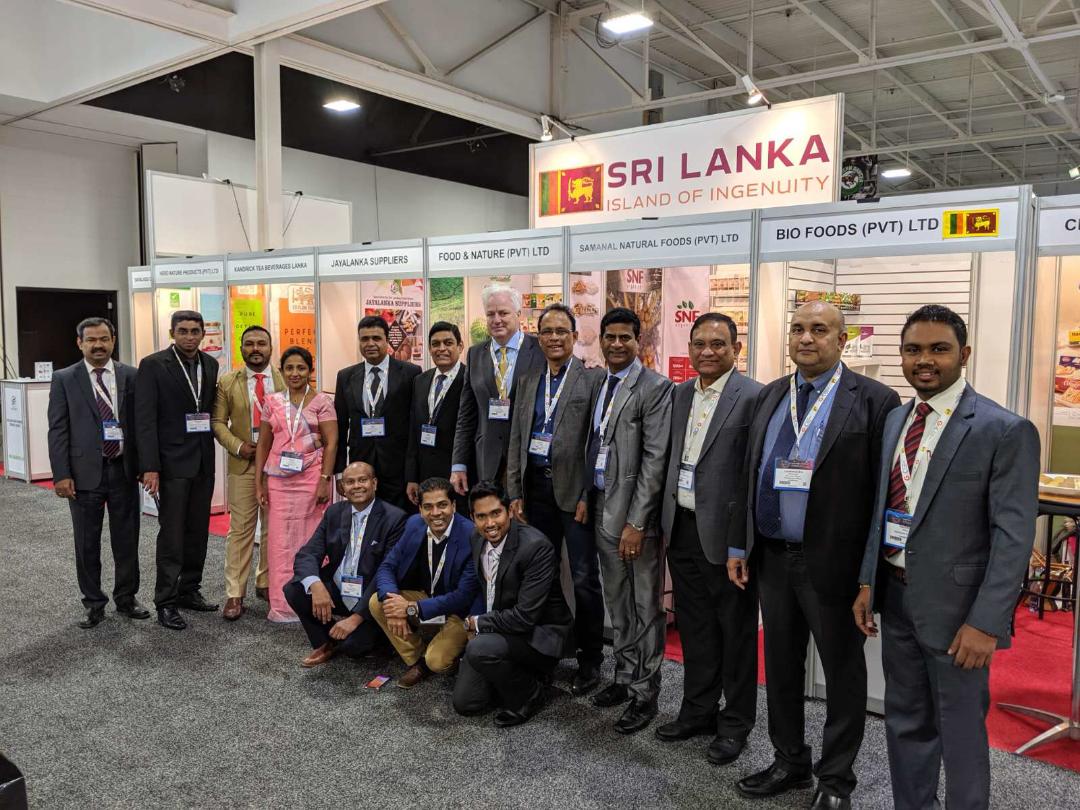 Sri Lanka participated at the GIC 2019 - Food and Beverage Sector International Exhibition, which is one of the most popular professional food and beverage sector exhibitions in Canada. GIC is visited by several thousand buyers, buying agents, importers, food sector distributors, experts, wholesalers, and retailers.
The event was held in Toronto from 22 to 23 October 2019. Sri Lanka's national participation was coordinated by the High Commission in Ottawa and the Consulate General in Toronto together with Ministry of Foreign Affairs, Export Development Board (EDB), and Department of Commerce of Sri Lanka.
Sri Lanka was represented at GIC 2019, by EDB together with Bio Foods (Pvt) Ltd, Ceylon Biscuits Ltd, Food and Nature (Pvt) Ltd, Hero Nature Products (Pvt) Ltd, Kandrick Tea Beverages Lanka, Waguruwela Oil Mills (Pvt) Ltd, Samanala Natural Foods (Pvt) Ltd, Sayaladu Coco (Pvt) Ltd, and Jayalanka Suppliers
High Commissioner in Canada Asoka Girihagama and Consul General Kaplia Jayaweera graced the inaugural session and interacted with the participants. Value added food products, tea, virgin coconut oil, coconut flour, coconut protein, and biscuits were displayed at the Sri Lanka pavilion.
The Sri Lankan delegation participated at the Market Orientation Programme, which consisted of a Market Familiarization Tour prior to the exhibition, in order to explore the Canadian retail markets and consumer trends and at the information session on the Canadian market, organized by the Consulate and EDB.
B2B meetings were arranged with leading buyers such as Costco, Loblaws, Longos, and CTS in Canada during the GIC exhibition which ensured exhibitors to establish useful trade contacts and to receive orders for their products through the new business links made.
Consulate General of Sri Lanka
Toronto
24 October 2019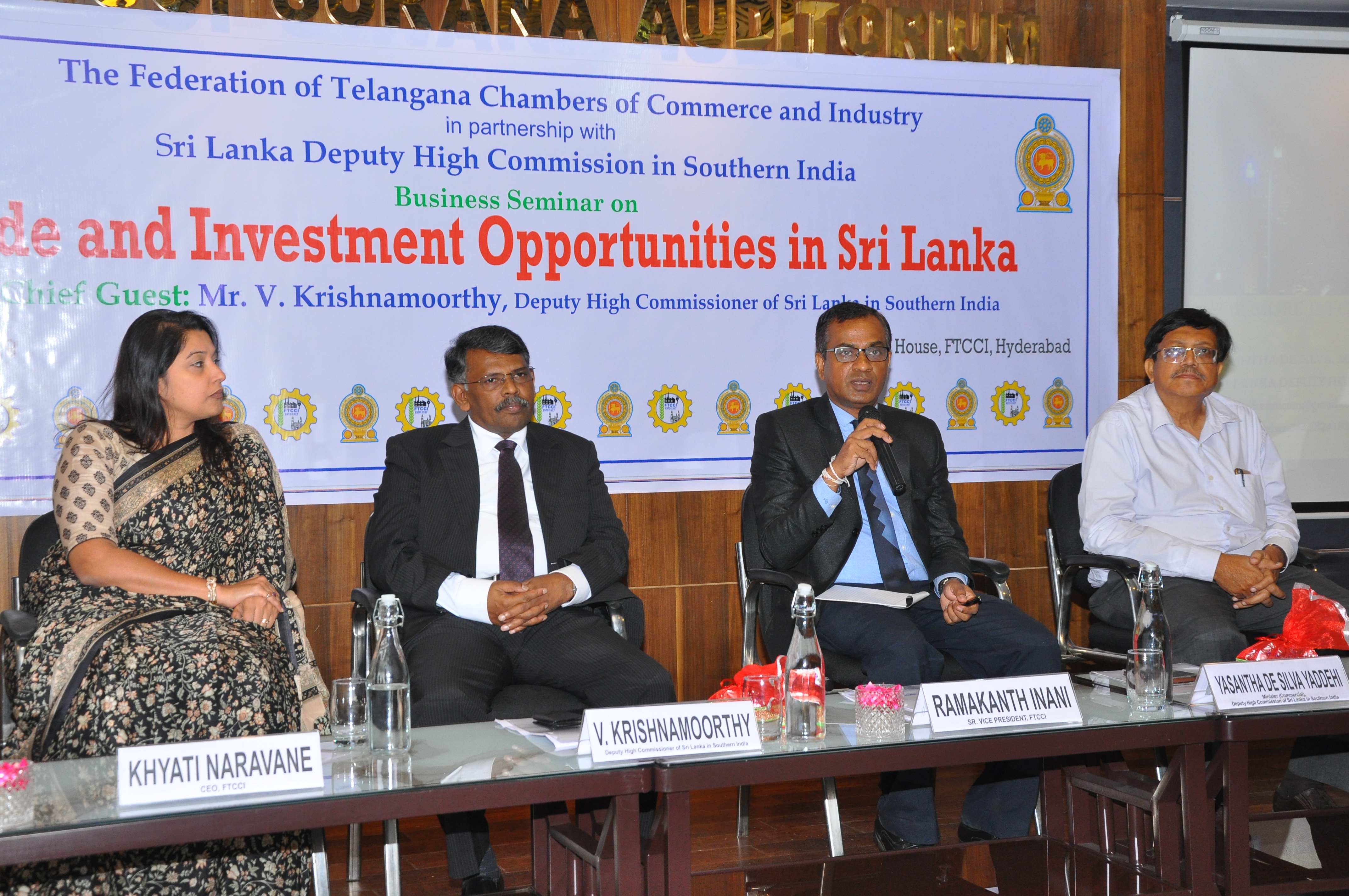 Sri Lankan Deputy High Commissioner to Southern India, V.Krishnamoorthy along with Minister (Commercial) Yasantha De Silva undertook an official visit to Hyderabad from 23-25 October, 2019 with the objective of strengthening trade and investment ties between Sri Lanka and State Government of Telangana.
During the visit, the Deputy High Commissioner participated at the seminar on Business and Investment Opportunities in Sri Lanka organized by the Federation of Telangana Chamber of Commerce & Industry (FTCCI) on 23rdOctober 2019.The main objective of the seminar was to create awareness amongthe entrepreneurs in Hyderabad about business and investment opportunities in Sri Lanka as well as to explore opportunities for expanding trade and investment ties. The Minister (Commercial) made a detailed presentation on Trading & Investing in Sri Lanka highlighting its exportable products and on its conducive investment environment.
During the interactions, the Deputy High Commissioner pointed out that the volume of trade between India and Sri Lanka has increased substantially during the past few years and requested the members of the FTCCI to gear up for the upcoming possibilities in importing more products from Sri Lanka.
On 24th October 2019, the Deputy High Commissioner participated as the Guest of Honour at "Accelerate 2" international Business Awareness Programme organized by the Global Exim Institute in which he stressed on the prospects for stronger connections between Sri Lanka and India in the areas of trade and investment. More than 200 participants took part at the event and the Minister (Commercial) also made a presentation on Sri Lanka's trade with India.
Deputy High Commissioner and Minister (Commercial) also had a meeting with the Senior Vice President of the Federation of Telangana Chamber of Commerce & Industry (FTCCI), the Director & Head of Confederation of Indian Industry of Telangana Chapter, Joint Director of Federation of Export Promotion Organization, Director Q Mart Super market and Managing Director Creamline Dairy Products Pvt Ltd, on the sidelines of their visit to Hyderabad.
During the above meetings they have assured that they will work with their Sri Lankan counterparts to enhance the economic relations between Sri Lanka and the State Government of Telangana.
Sri Lanka Deputy High Commission
Chennai
08th November 2019