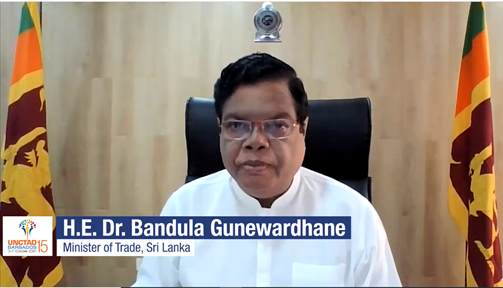 The 15th Session of the United Nations Conference on Trade and Development – UNCTAD 15 –concluded on 7th October 2021, with an outcome that seeks to address the most pressing trade and developmental needs facing developing countries. The organization's 195 member states have agreed on the actions needed to urgently support developing countries as they grapple with unequal access to COVID-19 vaccines, a debt crisis, the climate emergency and other unprecedented challenges.
The week-long quadrennial Ministerial Conferenceheld in hybrid format due to the prevalent epidemic situation was co-hosted by the Government of Barbados and the UNCTAD Secretariat in Geneva. The Conference featured a series of high-level events, pre-events and forums in the presence of global leaders and renowned experts in numerous fields.
Minister Bandula Gunewardhane led Sri Lanka delegation to the UNCTAD-15. Addressing the gathering virtually, Minister Gunewardhane stressed the pressing need of new generation of International Support Measures (ISMs) for countries like us that are profoundly vulnerable. Minister also emphasized the common challenges experienced by the global south, for instance, the escalating debt crisis, heavy commodity dependence, natural and man-made disasters, food insecurity, shortages of basic services and infrastructure among others.
While flagging that small economies among the global south are highly marginalized in the international policy setting, Minister Gunewardhane indicated that they have inherent issues such as lack of product diversification, lack of economies of scale, inability to attract productive investment, difficulties in improving domestic productive capacity and competitiveness in the international context. In this context, Minister Gunewardhane underscored the need of drawing special attention and adopting new ISMs to maintain a sustained economic growth for these marginalized economies. Minister calls for new international mechanism to address debt crisis of the global south, worsened with the global pandemic, and an independent international mechanism to evaluate the damage caused by devastating maritime incidents on the economies and ecosystems of developing countries.
Minister also led Sri Lanka delegation to the Ministerial session of the Group of 77, the largest coalition of developing countries within the UN, held prior to UNCTAD 15 Conference on 1st October, to finalize and adopt the "Bridgetown Ministerial Declaration of the Group of 77 and China on the occasion of UNCTAD-15". The country's priorities at a time of a global pandemic, were incorporated into the Bridgetown Declaration and reiterated through the oral statement.
Secretary to the Ministry of Trade, Deputy Secretary to the Treasury, Acting Director General of Commerce, H.E. the Ambassador and the Permanent Representatives of Sri Lanka to the UN and WTO and their staff members, representatives from Foreign Ministry, Environment Ministry and Central Bank of Sri Lanka were the other members of the Sri Lanka delegation.