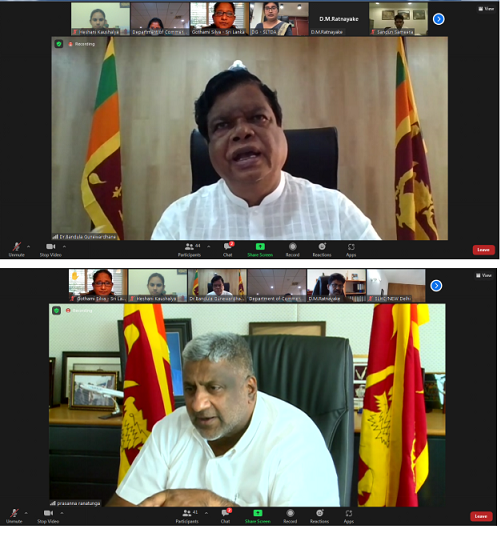 Hon. Dr. Bandula Gunawardena, Minister of Trade, along with Hon. Prasanna Ranathunga, Minister of Tourism, had a virtual meeting with all the Commercial Officers serving in Sri Lank Missions Abroad on 26th October 2021 to discuss the ways and means to promote Sri Lanka's Commercial interest and tourism in the respective host and accredited countries.
During the meeting, both the Ministers emphasized the importance of bringing down more affluent tourists to Sri Lanka in the process of country's economic recovery of post Covid-19 pandemic. The discussion focused on specific issues that hinder the tourist arrivals and ways to address those issues in each host country. Also, the Hon. Ministers gave specific directives to Commercial Officials on activities to be taken to attract tourists to Sri Lanka from their accredited countries. The Commercial Officials briefed the Hon. Ministers on the emerging post pandemic developments of the respective markets to design country specific promotional programmes by SLTDA and SLTPB to attract more to sustain the post pandemic economy.
Officials of the Sri Lanka Tourism Development Authority, Ministry of Trade and the Department of Commerce also attended the meeting and shared the information on current emerging new situations on developments of tourism in Sri Lanka.
At the end, Hon. Ministers also requested, the new officers before going to take over their duties in Missions abroad they need to discuss with them their immediate post pandemic plan of actions in consultation with exporters and related line Government agencies in a similar kind of virtual meetings arranged by the Ministry and which will be followed by him periodically.