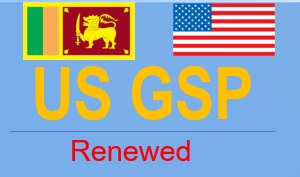 The United States Generalized System of Preferences (GSP) scheme, which lapsed on December 31, 2017, was renewed by the U.S. Congress on March 23, 2018. The U.S. President signed the legislation authorizing the renewal through December 31, 2020.
At present, nearly 3,500 different products from Sri Lanka are eligible to access the US market on a duty free basis under the GSP scheme. These include selected manufactured items, inputs used in manufacturing jewellery, carpets, selected agricultural and fishery products, and selected types of chemicals, minerals and marble.
The GSP expires periodically, and must be renewed by the U.S. Congress to remain in effect. The 2015 GSP reauthorization expired on December 31, 2017 as the U.S. Congress did not reauthorize its renewal before adjourning for the year in 2017. Therefore all GSP eligible exports to the United States, from all beneficiary countries and territories were subject to non-preferential duties from January 1, 2018.
While legislation to renew GSP was enacted on March 23, the effective date of renewal is April 22, 2018. Therefore, exports to the United States from GSP beneficiary countries under the tariff concessions will be effective April 22, 2018 onwards. However, as the GSP program's renewal is retroactive, importers may seek refunds of duties paid during the lapse of GSP authorization. To receive a GSP duty refund, an importer has to file a request by October 19, 2018.
The US economy is the largest single export destination for Sri Lanka, accounting for more than 27.5% of Sri Lankan exports. In 2017, Sri Lankan exports to the United States totalled US$ 2.8 billion, of which US$ 193,403,609 accounted for exports under the GSP scheme. This is an 11.5% increase from 2016.
Embassy of Sri Lanka
Washington DC
March 28, 2018